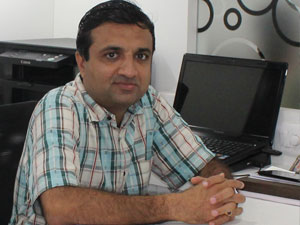 Welcome to Gopi Dental, Cosmetic, Periodontal, Laser and Implant Centre at Rajkot, Gujarat , India.

Dr. Bindan Shah, BDS, Specialist in RCT and Fix Teeth
Welcome to Dentist Rajkot
Since last 14 years Gopi Dental Care & Implant Centre by Dentist Rajkot Dr Bindan Shah is the one step solution for a wide spectrum of treatments ranging from day to day preventive dentistry to implant dentistry, cosmetic dentistry, restorative dentistry, periodontal treatment, child dentistry and even laser dentistry.
Our clinic which is one of the best centre for Dental implant, cosmetic and denture treatment as well as for fix teeth and root canal treatment in Rajkot, Gujarat, India is a synthesis of science and art, with an undiluted commitment to our clients and society. For us dentistry is an art form…..
Our clinic, located at Yagnik road, Rajkot, Gujarat, India is right in the heart of the city caters to a large spectrum of well heeled individuals expatriates to locals and also to medical/dental tourists. Our is one of the best implant and denture centre for dental tourism. All our NRI and local patients have one thing in common they come seeking us because we have high level of commitment, empathy and expertise to offer under completely sterilized clinical conditions. Above all a pain free dental experience.
Dental Treatments
Are you looking for any Dental Treatment?
We create the healthy smile you want in an environment of excellence with high quality dental care.