Fix Teeth Rajkot Cad Cam Zircoinia Crowns Gujarat
Fixed Teeth Rajkot
Crown
A crown is a restoration that covers, or "caps," a tooth to restore it to its normal shape and size, strengthening and improving the appearance of a tooth.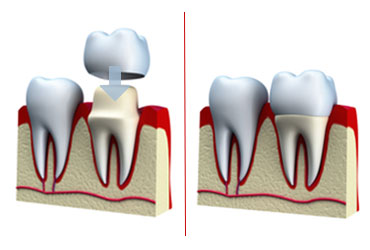 Crown refers to the restoration of teeth using materials that are fabricated by indirect methods which are cemented into place. A crown is used to cap or completely cover a tooth Traditionally, the teeth to be crowned are prepared by a dentist and records are given to a dental technician to fabricate the crown or bridge, which can then be inserted at a subsequent dental appointment.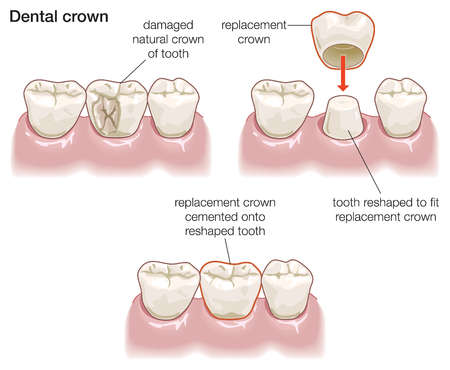 Bridge
A bridge, also known as a fixed partial denture, is a dental restoration used to replace a missingtooth by joining permanently to adjacent teeth or dental implants.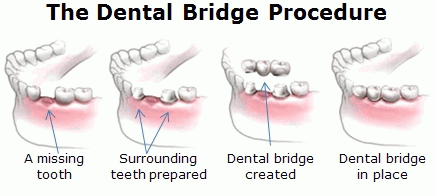 A bridge is fabricated by reducing the teeth on either side of the missing tooth or teeth by a preparation pattern determined by the location of the teeth and by the material from which the bridge is fabricated. In other words, the abutment teeth are reduced in size to accommodate the material to be used to restore the size and shape of the original teeth in a correct alignment and contact with the opposing teeth.
How do Crowns Work?
A crown is used to entirely cover or "cap" a damaged tooth.
Besides strengthening a damaged tooth, a crown can be used to improve its appearance, shape or alignment.
A crown can also be placed on top of an implant to provide a tooth-like shape and structure for function.
Porcelain or ceramic crowns can be matched to the color of your natural teeth.
Other materials include gold and metal alloys, acrylic and ceramic.
Porcelain bonded to a metal shell is often used because it is both strong and attractive.
Indication for crown
Replace a large filling when there isn't enough tooth remaining
Protect a weak tooth from fracturing
Restore a fractured tooth
Attach a bridge
Cover a dental implant
Cover a discolored or poorly shaped tooth
Cover a tooth that has had root canal treatment
How does Bridge works
Bridges are commonly used to replace one or more missing teeth. They span the space where the teeth are missing.
Bridges are cemented to the natural teeth or implants surrounding the empty space. These teeth, called abutments, serve as anchors for the bridge.
A replacement tooth, called a pontic, is attached to the crowns that cover the abutments. As with crowns, you have a choice of materials for bridges.
Your dentist can help you decide which to use, based on the location of the missing tooth (or teeth), its function, aesthetic considerations and cost.
Porcelain or ceramic bridges can be matched to the color of your natural teeth.
Both esthetics (appearance) and function are considered when selecting the material most suitable for you.
Indication for bridge
A bridge may be recommended if you're missing one or more teeth.
Chewing efficacy is also affected by one or more missing teeth.
Gaps left by missing teeth eventually cause the remaining teeth to rotate or shift into the empty spaces, resulting in a bad bite.
The imbalance caused by missing teeth can also lead to gum disease and temporomandibular joint (TMJ) disorders.
Bridges not only correct an altered bite, improve the chewing ability and speech, but they also safeguard the appearance by preventing the collapse of facial features that can cause premature wrinkles and age lines.
What type of bridges are there?
Besides traditional bridges, another popular design is the resin bonded or "Maryland" bridge, primarily used for the front teeth. This is usually the most economical choice when the abutment teeth are healthy and don't contain large fillings. The pontic is fused to metal bands that can be bonded to the abutment teeth with a resin cement and hidden from view, reducing the amount of preparation on the adjacent teeth.
A cantilever bridge may be used if there are teeth on only one side of the span. This involves anchoring the pontic to one side over one or more natural, adjacent teeth. If there are no adjacent teeth to act as anchors,an implant is recommended--a metal post that is surgically embedded into the bone and capped with a crown as an abutment. In some cases where the span is large, a removable partial denture is recommended or even an implant-supported prosthesis.
Suggestions and precautions
Adjustment period: It is ok for the bridge to feel a little out of place for a few days after cementing. This is because the teeth around this area are adjusting to new forces both in between the teeth and upon biting.
Preventive Procedures: To provide optimum longevity for your restorations and to prevent future decay and supporting-tissue breakdown, please use the following home care tips:
Brush after eating and before bedtime around the bridge with a soft toothbrush, especially where the crown or bridge meets the gum line (margin). At this margin area harmful bacteria can be harboured to cause decay and gum disease. An electric toothbrush is highly recommended over manual to help you keep this area clean.
Floss at least once to twice a day. Use the proxy brush, floss threader or automatic flosser to remove plaque under and around these areas to maintain good oral hygiene. On a bridge you must clean "under" as well as around the bridge. If you do not control the buildup of food debris and plaque your teeth and gums can become infected.
Fluoride rinse is to be used before bed. Swish the fluoride rinse vigorously in your mouth for at least one minute. Do not swallow any of the rinse and do not eat or drink anything for 30 minutes.
Use a proxybrush (interdental brush) to clean around the area after each meal
Chewing: Do not chew hard foods on the restorations for 24 hours from the time they were cemented — to attain optimum strength, the cement must mature for approximately 24 hours Also avoid eating or chewing on hard objects, food or ice.
Limit snacks, if high in sugar brush this area or swish with water
Sensitivity: Do not worry about mild sensitivity to hot or cold foods. This sensitivity will disappear gradually over a few weeks. Infrequently, sensitivity last longer than six weeks.
Recare: Inadequate return for examination is the most significant reason for prostheses failure. Visit us at regular six-month examination periods. Often problems that are developing around the restorations can be found at an early stage where they can be corrected easily and will be more affordable. Waiting for a longer time may require re-doing the entire restoration.
Problems: Call your dentist immediately if any one of these conditions occurs:
If the tooth is the first tooth to hit when you bite down after a couple of days, contact your dentist for an adjustment; a feeling of movement or looseness in the restoration; sensitivity to sweet foods; a peculiar taste from the restoration site; breakage of a piece of material from the restoration or sensitivity to pressure.